They should go – 5 Tips To Get Rid Of Items Before Hiring Your Bournemouth Removals
You've made the decision to finally do it. You've found the right place at the right price. You're about to arrange the moving services in Bournemouth. Sitting in the new living room with a book and a nice cup of tea is like a painted picture. Now, even though this sounds wonderful, you first need to leave your current apartment and move your stuff. Yes, we know there's a lot of things to pack up and wrap up, but what if we tell you it could be much easier?
Moving Out Could Be Less Stressful If Planned Ahead
You've probably made a list of the things that should be done before moving out. And if not – you better do it so you'd spare yourself some headache. Here are a few of the main things that should definitely be on your list:
After you add some more, we'd suggest you put there also "Sorting out your belongings the right way" before packing.
Your Bournemouth Movers Will be Quicker If You Have 35 Boxes Instead of 45
Moving out would be a lot easier if there are fewer items to actually move. Of course, this doesn't mean you should throw all your stuff on the dumpster. What it means is you can free yourself of unnecessary things you don't need anymore. So how could this be done "the right way"?
Actually, it's really simple. Take your time to separate the belongings you need and use from the ones that just take up space. Then think of the best way to get rid of all that has been put aside.
What Should Not Be Loaded on the Bournemouth Removals' Lorry?
Clothes, shoes, linens, blankets
Open your wardrobe and take a good look at what's in there. Now pick out everything you haven't worn in the last 2 years. The little black dress could stay – leave it there… But the pullover you received as a Christmas gift 3 years ago and you've worn only once – that one should definitely go. Everything that you haven't worn lately, you don't like anymore, or it's not fashionable any more – take it out.
If you have shoes that you know you'll never put on – they should go.
Note the two-year rule for clothes is in reverse when it comes to linens. If you have used it for more than 2 years, it should definitely go. Not that the people from the moving company in Bournemouth would mind if they carry sheets used for 3 years, but it's better for you.
Textbooks, university papers, books, magazines
It's perfectly OK to have textbooks and papers stacked up somewhere if you're still studying. However, if you've graduated a long time ago, then it's definitely not OK. It is way better to try and put them into use if all they do is just gather dust on the shelf. You can sell or donate them, but don't just throw them away.
Old TVs VCRs, remote controls, phones, chargers, cameras, etc. – these should definitely go. New technologies come up every day and electronic devices are getting outdated really fast. There is no reason to keep such things, which will take up space in the moving company truck.
Cosmetics and bath products
First and most important – check the expiration date on each and every item. Second – ask yourself if you'd really use it. The best thing here is to stick to the products that you actually use and set aside the experimental makeup or the bath foam (especially if you don't have a bathtub).
Things you kept because "you might need them."
They could be in the drawer where we put everything and anything, or they could just lay around the apartment. You know what we are talking about. If you're not using any of this stuff and think you might need them in the future but actually end up not even looking for them – they should go. They probably won't be of any use. Ever.
What Are the Best Ways to Make It Easier on Yourself and Your Bournemouth Movers?
It's up to you to decide how to get rid of all the things from the "they should go" pile.
Here are a few ways we'd like to suggest.
1.Selling
There are numerous websites where you could put up for sale almost everything mentioned above. Websites like Craigslist or Amazon could be perfect for clothes, books, even out of date electronics. You'd be surprised by the items people collect.
As long as it's lightly used and in good condition, you're good to go.
If the online option is out of the question, you could always go to a local second-hand shop. Some of them could even evaluate the items and pay on the spot.
Garage or yard sale is the third and maybe the quickest option to profit from the items you don't want anymore. Isn't that great? Your moving company truck will be lighter and your wallet fuller!
2.Donating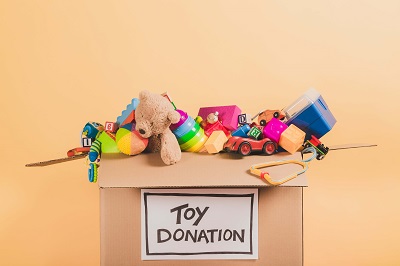 Donating is a wonderful alternative for decreasing the stuff you'll be moving out with. You would definitely make someone else happy with a nice pair of shoes or a warm sweater. Look for charities in your area and get in touch with them as soon as possible. Often they have some additional requirements besides bringing items cleaned and in good condition.
Local libraries, schools or community centres would gladly accept your textbooks and books, so make sure you check this option as well.
A good place to donate your blankets, sheets and towels is the local animal shelter. You could also help them by donating toys, bowls – anything that you don't need and they might.
3. Recycling and upcycling
Well, the upcycle is actually a way of keeping items because you're giving them a new life by transforming them into something new. This isn't really serving our purpose, however, there is a way to achieve that.
Heavily used, damaged or stained clothing that's not suitable for sale or donation, could be used up as rags and cleaning cloths. After all the place you're moving out of should be cleaned, right? Just simply cut the items into rectangles or squares and use them as you please. After that, they will be ready for recycling.
Check up the recycling centres nearby — for textile, electronic devices — and bring your stuff there.
Whatever you decide to do with the unnecessary things, it's a beginning, a fresh start. New place, new you!