4 Ways to Make Your Move to Bournemouth During the Holidays Jolly and Merry
While other people unpack their holiday decorations and prepare for the annual festivities, you are stuck with the unpleasant task to pack your household and move. The fact you are going to relocate to one of the most charming towns in the UK doesn't give much comfort when it is during the holiday season. Alas, it must be done, and you just need to make the best out if this situation. Fortunately for you, we have gathered some moving tips that will make the home removal to Bournemouth much more jolly.
Start Your New Life in Bournemouth with a Good Deed
It is a well-known fact the house move is the perfect pretext to get rid of all unwanted and unused items in the home. People often start to sell their belongings months before the actual relocations even begin. However, we are offering you an alternative in the holiday spirit of giving – donate to your local charity organisations or crisis centres. Yes, you can earn a couple of bucks by selling your old toaster or clothes but would it be better to help someone less fortunate than you? Plus, the fewer boxes you transport, the less you will pay to your movers in the end.
Clothes, beddings, shoes, gloves and hats, these are the essential items people need during the cold season. They will bring a smile to the faces of so many homeless people.
Old electronics are also welcomed, as often the funding for the homeless shelters is not enough. Frequently the organisations are lacking the basic necessities.
Remember your local pet shelters and RSPCA. They rely mostly on donations. You don't need this box full of old children's toys. Your kids are in college! But a lonely dog somewhere would love to play with that tennis ball you got there.
While you are cleaning your fridge and cupboards, consider donating all the canned food you have. You don't need to pay extra to transport 5 cans of tomato souse, just give them away. Remember to always check the expiration dates on the bottom.
Speaking of cleaning your shelves, did you know you can also donate cosmetics to women's shelters? If you have unopened bottles of shampoo, makeup samples or face creams you haven't used, and the package is intact – donate them. You have probably forgotten you bought them in the first place.
Travel in the spirit of Christmas
Pack some holiday decorations that can travel with you in the car. It would be good to always be prepared If something went wrong and you are forced to celebrate Christmas at a hotel. Some small ornaments and one or two glowing lights are enough to lift your spirits up and fill your heart with joy. Plus, the kids will love it. Travel with a box with holiday essentials so it will be easy to decorate your new Bournemouth home upon arrival. This can be a fun family activity and can help reduce the build-up stress from the relocation.
Don't Forget About the Presents When You Relocate to Bournemouth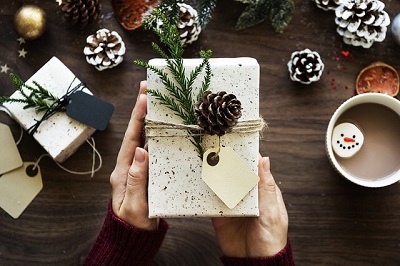 The good news is with so many boxes your children will definitely fail to find them in advance. However, the tricky part is to know exactly where you have placed the Christmas gifts. Here are some inventive ways to identify the gift boxes:
Use stickers to distinguish the different containers. For example, a green triangle is for the plates from the kitchen, but the blue one is for Jesse's presents.
Always put the big gifts last in the moving truck so they will be the first to enter your new home.
Buy some small stuff like sweets or simple board games. This way if you end up stranded in a hotel on Christmas Eve you will still have gifts for your family. Leave a funny card explaining Santa has left the bigger surprises in your new home. This will excite the little ones, and they will be eager to move to Bournemouth.
Let It, Snow
The holiday season is upon us, and do you know what else is upon us? Flu season! Moving during the winter months means you will spend a lot of time outside. Make sure you are always wrapped well in warm clothes. We suggest getting at least one wool layer on you, as this natural fabric will preserve the warmth of your body.
When packing makes sure to prepare your hand luggage accordingly. Put at least one pair of extra socks, gloves and sweaters. Get some basic coughing and flu medicine. If the drive to Bournemouth is going to be a long one, consider preparing some hot drinks. The most unpleasant thing that can happen to you is to switch homes while sick and during the holidays. So take proper care of yourself and your loved ones.